The solar diesel hybrid pumping system designed and currently being installed by ReAqua will see a stationary diesel engine replaced with an electric motor that will be powered in part by a 500kW solar array.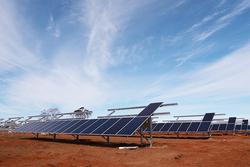 A diesel generator will also be installed, and an automated control panel will seamlessly blend generator power with the available solar power enabling the pump to run at night or on overcast days.
Speaking to ABC's NSW Country Hour in June, Jon explained the benefits of installing such a large system.
"There's about a hectare of solar panels that will be installed on site, and this is going to be pumping 15 megalitres of water a day by using energy from both the sun and from a diesel motor."
"We think we will save more than five hundred tonnes of carbon emissions a year with this [installation] and that's about the equivalent of seventy-five Australian households each year."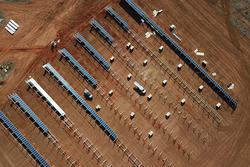 Additional benefits for Jon will see a reduction in diesel costs by 50% per year as well an annual income of LGC's (Large-scale Generation Certificates).
"We generate an income stream from the sale of LGCs, and over five years, that's in the vicinity of about $130,000, which will help us a lot," Jon said.
"Because this system is related to irrigation development, it's 100% tax deductible for the next financial year."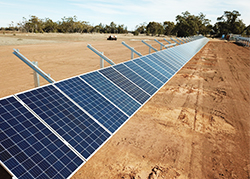 With construction well underway, the positive impacts from installing the solar diesel hybrid system for Jon and his family has generated interest from the cotton industry as well as other large-scale irrigation farmers.
"Looking after the land has always been important to us, and this development is part of that on-going move to improve the pumping of water for our cotton farm."
To learn more about the 500kw system, listen to Jon's interview below from NSW Country Hour, or contact us.
https://storage.googleapis.com/kms-au.appspot.com/sites/reaqua/assets/22b7f572-f3d8-46e4-addc-7708c70f3ecf/NSW-Country-Hour-500kW-recording_Small.mp3