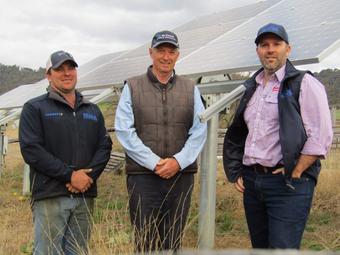 REAQUA Director Jock Lee, Blooms Water's Nick McGhie and REAQUA Managing Director Ben Lee at the farm of Bruce Chapman, Bendemeer, New South Wales.
"We want to deliver reliable solar pumping solutions for our clients…"
"People generally accept that solar pumps are now mainstream technology, but there is still a misconception that solar can only deliver small volumes of water.
"However for the vast majority of graziers, we can deliver off-the shelf products to completely replace their diesel pumps."
Additionally, REAQUA uses technological developments to improve ease of use for their customers. Their pumps come with standard remote monitoring systems, which allow farmers to remotely oversee the status of their pumping systems.
Reliability is another key advantage of REAQUA's solar technology.
"REAQUA's product range comes from our exclusive partnership with LORENTZ.
"These pumps have been operating in harsh environments in Africa, Asia and the Middle East for over 20 years. They're hardy, maintainable products that just keep on working."
REAQUA also provides a level of service that is unmatched by their multinational competitors.
"We work closely with our carefully-selected dealers, regularly travelling out to our clients to design livestock watering systems, install products, and train staff in the proper repair and maintenance of their pumps."
REAQUA's goal is simple.
"We want to deliver reliable solar pumping solutions for our clients that will see more dollars in their pockets and cut reliance on expensive and high-maintenance diesel pumps."