ReAqua were fortunate to have many businesses, farmers, ag-tech experts and parliamentarians come along on the day including the Hon. Mark Coulton MP, the Hon. Niall Blair MP, the Hon. Troy Grant MP, Craig Davies Mayor of Narromine, Luke Simpkins CEO of NSW Irrigators Council, Michael Egan Chair of Macquarie River Food and Fibre, Fiona Simson President of the National Farmers Federation and John Newcombe Director of the Rural Assistance Authority.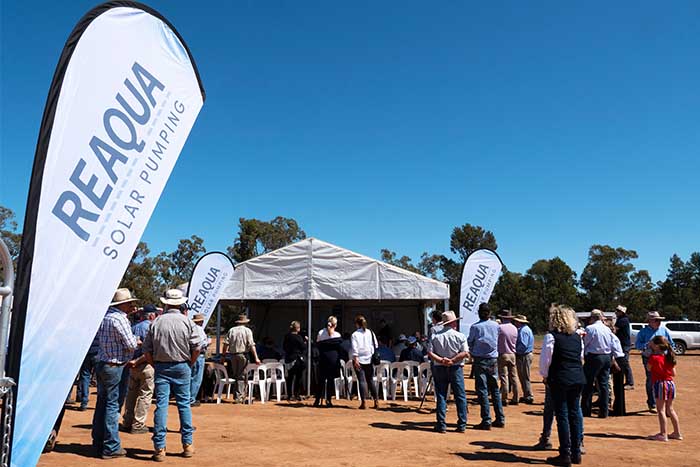 For Ben Lee, Managing Director for ReAqua, it was a day where Australia could see the future of farming sustainability come together.
"The key thing for irrigators in the industry and our customers in general is they now have the option for a complete solution to minimise their energy costs."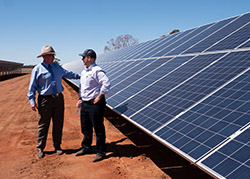 ReAqua's 500kW solar diesel hybrid system will be used to irrigate Jon's cotton and wheat crops, by pumping 8 megalitres of bore water each day using solar alone, and flicking to diesel once the sun sets, pumping another 7 megalitres.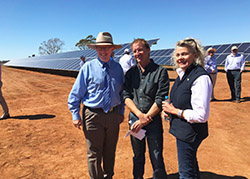 "Although this system is a solar diesel hybrid, we do have the ability to blend solar with electricity, and I think the key thing for our customers is that it is building resilience for their operations" explains Ben.
"Everyone knows energy costs are rising, and if you can reduce one of your biggest on-farm costs, you're building resilience against commodity price fluctuations, drought, anything else that comes your way, and that's what we're really excited about."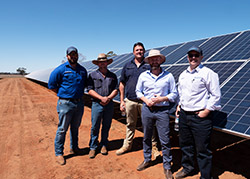 The day consisted of speeches by Jon Elder, Mr Coulton, Mr Blair, Mrs Simson, Ben Lee and Brian Spak of the CSIRO Energy team, followed by the system being inaugurally switched on by Mr Blair.
"This is the type of project that we can be celebrating and learning from" said Mr Blair.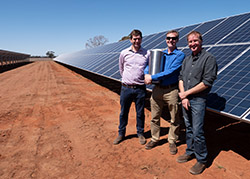 "Farmers have been adapting to challenges and embracing innovation for decades here in Australia, and I'd like to think we have some of the most sophisticated producers that are trying to think outside the box and to work through some of the challenges we all face."
Learn more about ReAqua's solar diesel hybrid system.
Listen to Ben Lee discuss the the 500Kw system on National Rural News (2gb).
https://storage.googleapis.com/kms-au.appspot.com/sites/reaqua/assets/a3698c19-c2e4-465e-a434-0890dc46d5fe/National-Rural-News-21st-Sept-ReAqua-500kW-Launch.m4a
Listen to Ben Lee and the Hon.Niall Blair discuss the 500kW system on ABC's NSW Country Hour.
https://storage.googleapis.com/kms-au.appspot.com/sites/reaqua/assets/3b463aa7-6e32-4afa-8c1f-0f4bf5231db8/NSW-Country-Hour-Mon-24th-Sept-ReAqua-500kW-Launch.m4a